We, at Lou's Construction want to share with you some great safty products we have been installing.
The Earthquake Safe-T-Valve
Safety and Convenience

- Shuts off the gas, whether you are home or not, automatically in the event of a major earthquake.
- Helps prevent fires caused by earthquakes.
- Protects your family, home and keepsakes.
- No tools required to reset.
Quick, easy, push-button gas shut-off is convenience and makes turning off the gas at the gas meter and tools a thing of the past.
In most case's installed for about: $325.00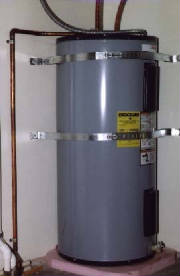 The waterheater strap
Strapping the water heater,
and having aflexible gas line,
will greatly reduce the risk of fire
and water damage
Water heater strap installed for about: $165
The Flood Safe Auto Shutoff Supply Line
The FloodSafe auto shutoff connectors protect against catastrophic water damage by automatically shutting off the water supply to plumbing fixtures/appliances if excess water flow is sensed.
Installed for about: $85.00 a fixture